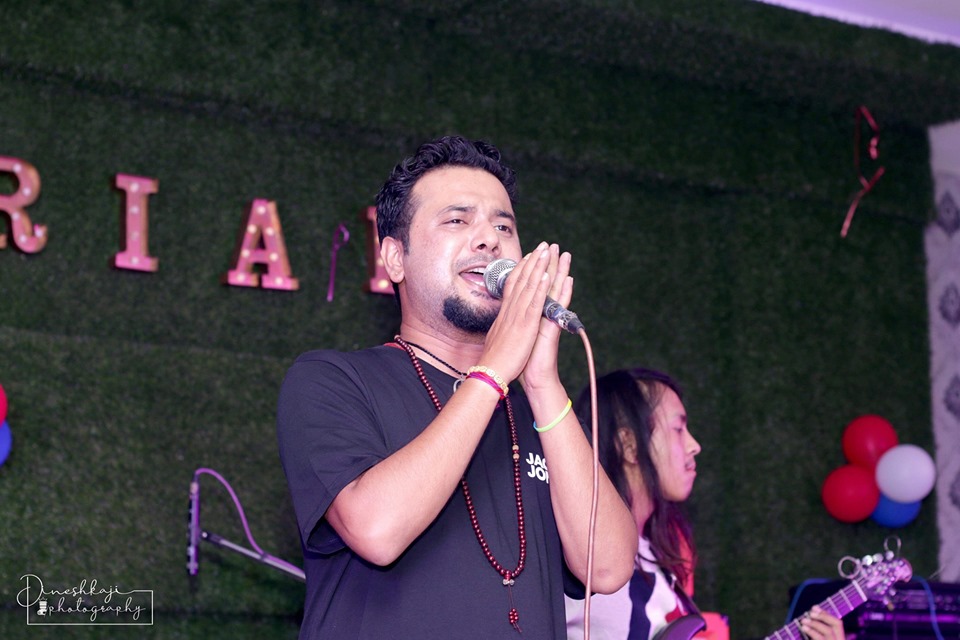 Song Info:
Song: Timi Tadha Gayeu
Vocal & Music: Sugam Pokharel
Lyrics: Ghamaraj Luitel
Arrange: Jems Pradhan
Album: Sutra
Language: Nepali
Music Label: Sugam Pokharel
Timi Tadha Gayeu Lyrics
Timi tadha gayeu, dherai tadha gayeu
Jati wara thiyau, tyati para bhayau
Mera dubai aankha bata nikliyerai gayau
Tara manai ta ho, yo manai ta ho
Timro maya sadhai malai, laagi rahancha
(Timi phool banera fulekai thiyau
Mero sano bagaichama bhulekai thiyau) x2
Timi malai latyayera chhodi gayau
Tara manai ta ho, yo manai ta ho
Timro maya sadhai malai, laagi rahancha
(Timra laagi yeta ekadesh bhayo
Utai timro rangin sansaar banyo) x2
Sabai kura birsiyera chodi gayou
Tara manai ta ho, yo manai ta ho
Timro maya sadhai malai, laagi rahancha
Timi tadha gayeu, dherai tadha gayeu
Jati wara thiyau, tayti para bhayau
Mera dubai aankha bata nikliyerai gayau
Tara manai ta ho, yo manai ta ho
Timro maya sadhai malai, laagi rahancha
Timi Tadha Gayeu Lyrics in Nepali
तिमी टाढा गयौ, धेरै टाढा गयौ
जति वर थियौ, त्यति पर भयौ
मेरा दुवै आँखाबाट निक्लिएरै गयौ
तर मनै त हो, यो मनै त हो
तिम्रो माया सधै मलाई, लागि रहन्छ
(तिमी फुल बनेर फुलेकै थियौ
मेरो सानो बगैचामा भुलेकै थियौ) x२
तिमी मलाई लत्याएर छोडी गयौ
तर मनै त हो, यो मनै त हो
तिम्रो माया सधै मलाई, लागि रहन्छ
(तिम्रा लागि यता एकदेश भयो
उतै तिम्रो रंगिन संसार बन्यो) x२
सबै कुरा बिर्सिएर छोडी गयौ
तर मनै त हो, यो मनै त हो
तिम्रो माया सधै मलाई, लागि रहन्छ
तिमी टाढा गयौ, धेरै टाढा गयौ
जति वर थियौ, त्यति पर भयौ
मेरा दुवै आँखाबाट निक्लिएरै गयौ
तर मनै त हो, यो मनै त हो
तिम्रो माया सधै मलाई, लागि रहन्छ
Background Information:
Timi Tadha Gayeu is a Nepali song, sung and composed by Sugam Pokharel from the album "Sutra".

The song Timi Tadha Gayeu is written by Ghamaraj Luitel, arranged by Jems Pradhan, Guitar played by T-Sujil Karmacharya, Harmonica played by Sugam Pokharel, Mixed by Mohit Munal, Recorded by Shailendra M. Pradhan (Babu), Studio at Music Work and Audio by SAV.

The song Timi Tadha Gayeu is available on the youtube channel "Sugam Pokharel." So, here is Timi Tadha Gayeu Lyrics in Nepali and Timi Tadha Gayeu Lyrics in English by Sugam Pokharel. Enjoy and Share!!!
Music Video of Timi Tadha Gayeu:
Playlist of Sugam Pokharel:
Latest Nepali Song Timi Tadha Gayeu Lyrics – Thank you for visiting our website. Our main purpose is to accurately convey what the visitors are looking for and wanting. We always provide fresh, genuine, inspirational, entertaining, and educational content to our visitors. So, be our NEPLYCH family members subscribe to our website and follow us on different social networks.