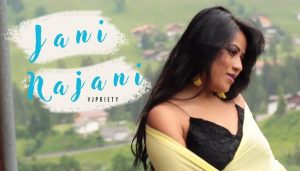 Jani Najani Lyrics
Song: Jani Najani
Artist: Vjpriety
Lyricist: Vjpriety
Music: Vjpriety
Mixed and Mastered – VJ
Music Label: VJMUSIC
[su_divider top="no" style="double" divider_color="#d60a77″ size="6″]
[Female]
Jani jani jani najani najani
[Male]
Maile jani najani timilai,
dherai maya garna pugechhu
[Female]
Khali khali yo mann ko pana maa
timrai naam korna pugechhu
ho..ho…
[Male]
Timilai ta ajhai thaha chhina,
ma k sochchhu timro baremaa
Timilai ta ajhai thaha chhina,
ma k sochchhu timro baremaa
[Female]
Kahile pura hunchha hola,
timi pratiko mero chahana
Kahile pura hunchha hola,
timi pratiko mero chahana
Timi pratiko mero bhawana,
timi pratiko mero bhawana
[Male]
Hidda hiddai timi sanga
dherai para aai pugechhu
[Female]
Timrai sapana lai saachera
yo sansaar lai bhulechhu
Ho…hoo
[Female]
Jani jani jani najani najani
Jani jani jani najani najani
जानी नजानी
जानी जानी जानी नजानी नजानी
मैले जानी नजानी तिमीलाई धेरै माया गर्न पुगेछु
खाली खाली यो मनको पानामा, तिम्रै नाम कोर्न पुगेछु
तिमीलाई त थाहै छैन, म के सोच्छु तिम्रो बारेमा
तिमीलाई त थाहै छैन, म के सोच्छु तिम्रो बारेमा
कहिले पुरा हुन्छ होला, तिमी प्रतिको मेरो चाहाना
कहिले पुरा हुन्छ होला, तिमी प्रतिको मेरो चाहाना
तिमी प्रतिको मेरो भावना, तिमी प्रतिको मेरो भावना
हिड्दा हिड्दै तिमी सँग, धेरै पर आई पुगेछु
तिम्रै सपनालाई साचेर, यो संसारलाई भुलेछु
जानी जानी जानी नजानी नजानी
जानी जानी जानी नजानी नजानी
….THE END….
Background Information:
Jani Najani is the latest romantic Nepali song, sung by Vj and Priety. The music for this beautiful song is composed by VJ and Jani Najani Lyrics penned by Vj and Priety.

The song is published on 23 April 2020 via youtube channel "VJMUSIC." So here is Jani Najani Lyrics in English and Jani Najani Lyrics in Nepali by Vjpriety. Enjoy, Share, and Stay tuned for more updates!!!
Music Video of Jani Najani:
[su_youtube url="https://www.youtube.com/watch?v=SzEEv-NJ6Jc"]
Related Posts for You:
Latest Nepali Song Jani Najani Lyrics – Thank you for visiting our website. We hope you might have found what you're looking for. And don't forget to share with your friends on social networks and comment below. Also, check out the latest songs lyrics and chords. Stay tuned for more updates!!!
Sharing is Caring.